Portable Storage Comparisons
What sets American Portable Mini Storage Inc. apart from other traditional mini storage companies and storage warehouses?
American Portable Mini Storage Inc.'s portable mini storage unit gives you a level of convenience and affordability that you can't find with any other company. We meet the storage needs of individuals and businesses. The delivery of our units takes the work out of what traditionally is a cumbersome task. We bring a mini warehouse directly to you. You need only to load your belongings once.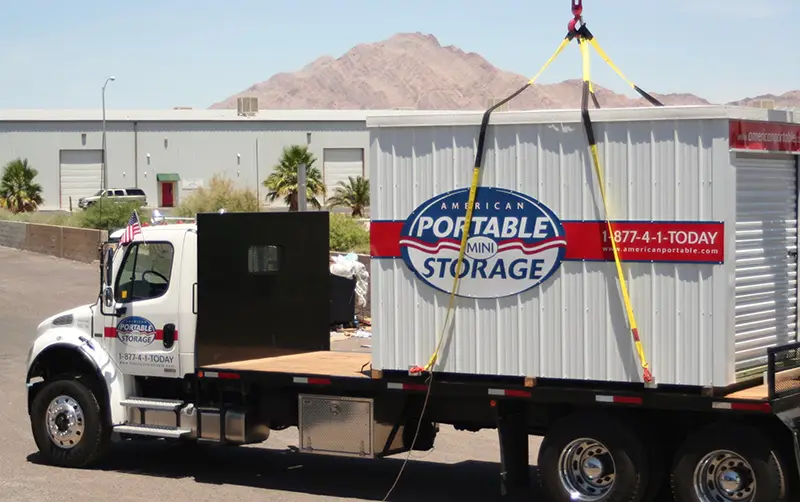 Whether you need offsite mini storage or you are relocating, American Portable Mini Storage™ will eliminate the need to pack and unpack your possessions twice. With traditional mini storage you have to load your belongings into a truck only to unload them into a mini storage unit. With American Portable Mini Storage™ you only pack once and leave the driving to us. We will transport your possessions safely to a secure American Portable Mini Storage™ facility, or to its final destination.
Business owners, banks, law offices, municipalities and school districts find American Portable Mini Storage Inc. particularly useful for storage of their records.
Contractors use storage units on job sites.
Insurance companies refer their clients to American Portable Mini Storage Inc. for storage of belongings after a fire or water damage has occurred.
Home owners use our units to clean out garages, basements, attics or just about any other area of their home
Small businesses use our units for every application imaginable.
Parents store their kid's college possessions for the summer.
Landowners store their outdoor seasonal tools and equipment.
Retail stores warehouse their overstocked merchandise.
Charities and non-profits use them as temporary storage.
Dollars and Sense… These companies know that their office space can cost them in excess of $ 15.00 per square foot, with American Portable Mini Storage™ they are paying a fraction of that.
Moving? Let American Portable Mini Storage Inc., provide an economical, hassle free method to move your possessions to your new home or place of business. With American Portable Mini Storage Inc. there is no need to drive a large truck, purchase insurance or fuel for that truck. Pack the portable mini storage unit at your leisure and call us to pick it up. We will deliver the storage unit directly to you or hold it until you are ready for it.
American Portable
Door To Door
Mobile Attic
Climate Controlled Containers at Your Location or Ours.
We can deliver a Climate Controlled Container for you to keep at your home or we can store it for you.
Container Placement Flexibility:
We can set units on grass, dirt, and even on the other side of fences.
Value For Your Dollar:
Per cubic foot of storage space, American Portable Mini Storage is the least expensive, while delivering unsurpassed customer satisfaction.
The Container is Wood Sheathed with Steel panels on the outside.
The units are strong and secure while still having the wood sheathing to prevent sweating.
Door to Door is a trademark of Door to Door Storage
Mobile Attic is a trademark of Mobile Attic, Inc.